OUR ROLE
Consultancy, Web Design, Ongoing Support
New Start was the UK's first magazine dedicated to regeneration. Launched in 1999 as a print magazine, it was re-launched as an online-only publication in January 2011 under the new ownership of the Centre for Local Economic Strategies (CLES).
After a difficult transition to the new online business model, New Start approached ESP in 2013, looking to redesign and improve their website, with a particular focus on ways to increase advertising and subscription revenue.
FEATURES
Advertising Income
Mailing List Management
Membership Subscriptions
Responsive Design
Social Media Marketing
"The resulting product has helped New Start rebuild its business and audience."

Editor

---
Out with the old, in with the New
The first goal was to give the site a fresh new design, to create a strong first impression and provide a more attractive offering to entice visitors. The new site is much brighter and less cluttered, with simple navigation and bigger, bolder buttons.
Throughout the tendering and design process the team was engaged, creative, clear and professional.
---
Focusing on the Priorities
One of the biggest challenges in any website project is to clearly define your priorities and to maintain a focus on those priorities as the project develops. For a large and complex website such as New Start, there is a lot to think about to get this aspect right.
We worked closely with the client to help them define the relative priority of different elements, such as articles, adverts, buttons, menus, etc. This effort then informed the design decisions when it came to layout, size and positioning of the various elements, especially in relation to what would display "Above the fold" on screens of different sizes. It was especially important to balance the needs of site visitors with those of the advertisers.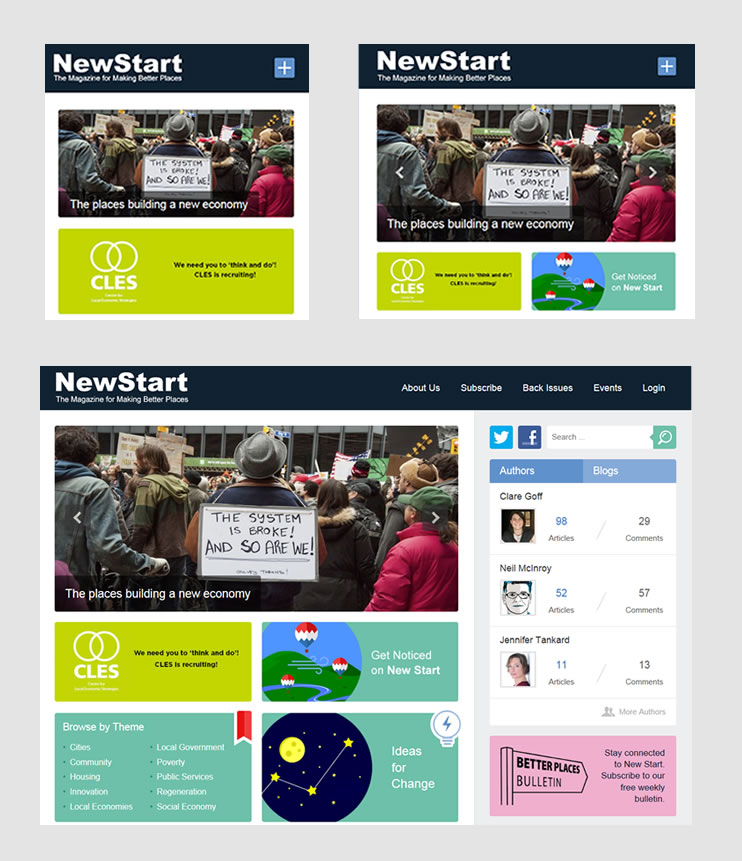 I appreciated their insight and understanding of our business and what we were trying to achieve and their ability to simplify technical ideas.
---
Responsive Design
There has been a distinct audience shift towards mobile browsing and responsive design represents the simplest way to reach users across multiple devices and ensures a seamless user experience. All of ESP Projects Web design projects include fully responsive sites optimised for mobile and user experience.
2013 marks the first time that the majority of adults – 55% – have used the internet to read or download news from sources including newspapers and magazines, broadcasters such as the BBC, or online-only websites such as the Huffington Post, according to a report by the Office of National Statistics.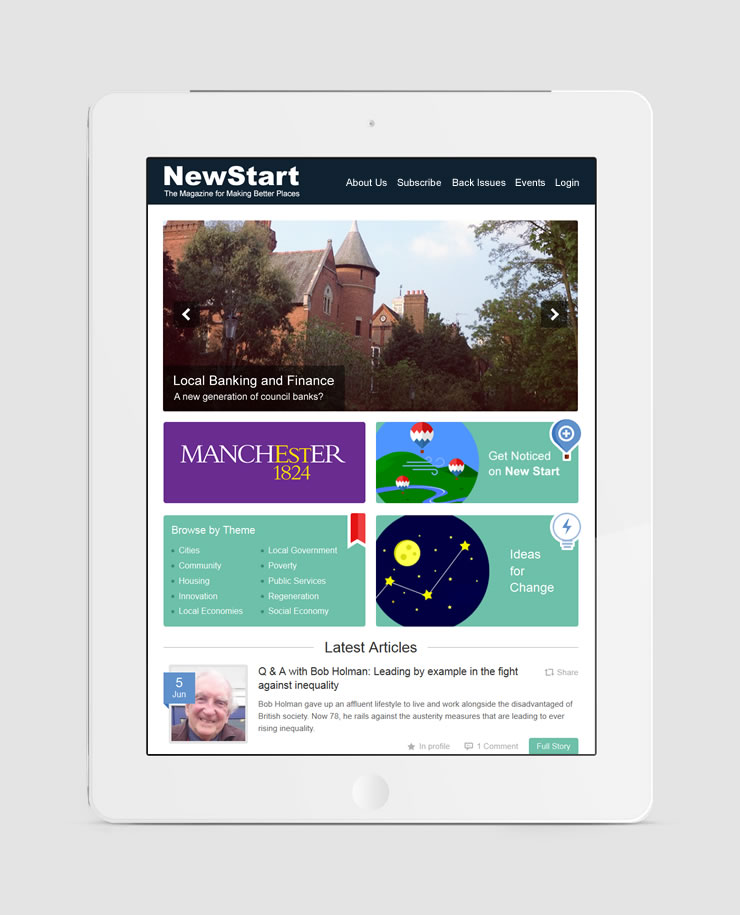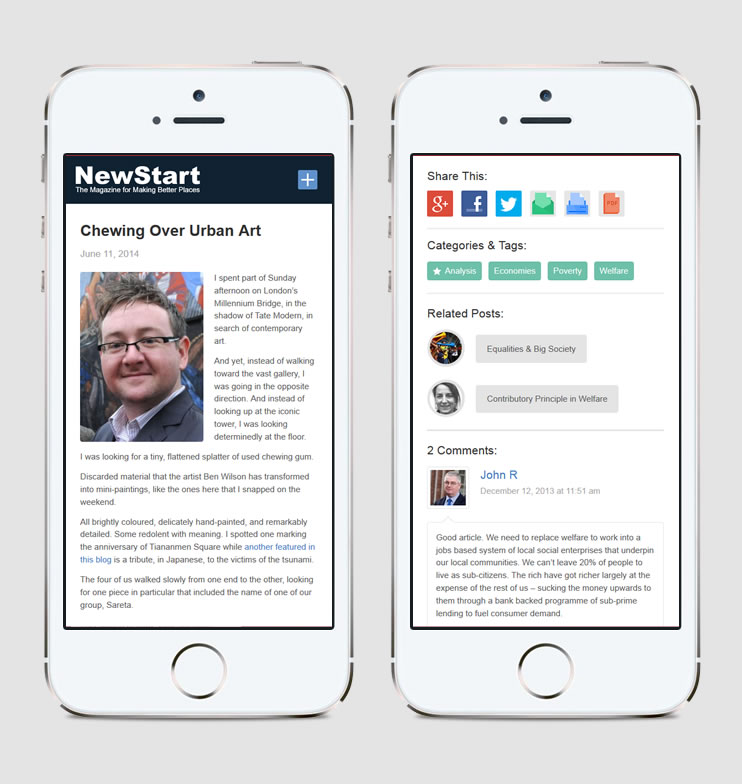 Since the redesign, Mobile use is up 30% and tablet use is up by 50%. In fact, almost 25% of all page visits now come from a mobile or tablet device.
---
Twitter Campaigns
A crucial aim of this project was to increase advertising via social media. We included a number of features to make it easy for visitors to share content as well as introducing the ability for New Start to direct message their growing list of Twitter followers. A recent Twitter campaign was aimed at generating sign ups for their mailing list, resulting in more new subscribers over the course of the 4-week campaign than they received in the 8 months prior.