We save you time

We are ESP.  Our vision is to help our customers to simplify and secure their IT Systems whilst supporting and encouraging our employees to reach their full potential. 

We are here to make your business better, saving you time wasted on IT related issues. We provide high quality, best in class, IT Support Services to all local businesses.  Helping our clients to achieve secure, reliable IT platforms for their stability and growth.  We continuously innovate our offereings to reflect the needs of the modern workplace.  We build long term relationships with our clients and with our employees through approachability, mutual support and empathy, sharing our combined broad knowledge and experience. 

Book a Teams call or Face-to-face appointment!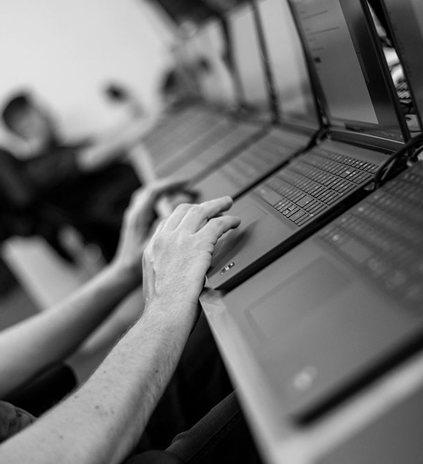 EST.
2002
Providing faster IT Support for business for 22 years
Summary of our last 30 days.

2160
Opened Tickets

2152
Solved Tickets

98%
Customer Satisfaction
We look after computers for Business Owners!

OK, so that might sound like a bit of a weird statement to put on our page. We look after computers for Business Owners - because you don't want to! However, you can find out more about why we're starting to roll out this phrase by reading one of our recent blogposts here What does your business do?

In the meantime, what does it mean? Well it means that we take care of your IT Systems within your business. We only bother you with the things you need to know about. Other than that, we'll deal with it for you. If you have someone in house that we can communicate with rather than you, the business owner, then great, we'll do just that. We mostly work with businesses from 25 - 50 staff - it's our bread and butter. Although we do have customers smaller and larger than that. We work with different people across those organisations. Some businesses nominate an IT contact, some businesses expect their Finance Director (FD) to be responsible for communicating with us. Others want their Operations Director or Manager to deal with it. Either way, we'll take the hassle away from you and Look after the computers (and all of the associated computers, software and other things) for your business and make it as light-touch as possible for you IF that's what you want.

Book a Teams Call Today!

Technology strategy and support designed to make your business easier
Our job is to simplify, not overcomplicate things. We provide IT Support Sheffield. We understand that the most important part of your relationship with an IT Partner is its people.
Our staff have been chosen for their friendly nature and not their ability to speak geek! Our IT Support Helpdesk offers FAST, FRIENDLY, and JARGON FREE help to all of our customers. You won't be asked for your details so that we can call you back, you'll be immediately connected to someone that can help solve your problem. We respond to 95% of calls within 2 minutes and 95% of emails within 30 minutes. We want to be YOUR technology partner, not just a supplier. We want to establish a long-term relationship with YOU. Contact us to get things moving.
Our IT Support Account Management team will inspire you to think differently about IT, taking a business strategy first approach.  What this means is that the IT systems are designed around your business, not the other way around.  We will add value to your business in the form of trusted advice and experience around all things technology.  We will help you to simplify and accelerate your business processes to help you to see our value. Our systems are the final piece of the jigsaw, monitoring and maintaining your IT Solutions in a smart way so that we are able to keep ahead of the curve and keep you updated with statistics and reports that help you to navigate the road ahead. We want to be YOUR technology partner. We want to establish a long-term relationship with YOU.
More About IT Support
"Did what they promised, set out a project plan for our IT transformation and delivered it. Always available for a chat about how things are going and a good dedicated team of service desk staff and technicians."
AM - 150 User Charity
"Fantastic service and support from this team. Great response time."
World of Sweets
"Fab I.T Support!"
Operations Manager. Housing Charity.
"Remedi - Restorative Services have been with ESP Projects a few years now.  Excellent Service, always available for help with new purchases and speedy response with helpdesk queries.  Highly recommend these guys."
Remedi - Restorative Services
"We have used ESP for many years now and fully recommend them."
Louis A.
"We are a medium-sized wildlife charity based in Sheffield. Right at the beginning of our relationship with ESP, they helped us solve some major IT problems that were caused by our outdated systems. The efficient, professional, and friendly service, provided by ESP has been exceptional. Our users now use the service provided, without a second thought. In turn, this has enabled us to release our internal resources to focus on more proactive IT developments which has not been easy historically. As an organisation working within the third sector, we need to ensure value for money in everything that we do. We have found ESP to be price competitive in a market which they clearly understand. ESP are a local, well run, third sector orientated IT support organisation which we are very happy with. Most importantly though, they are nice people to work with."
Peter Bradbury, Sheffield and Rotherham Wildlife Trust
'We began working with ESP as a new Charitable Trust in 2017, following a tendering exercise.  ESP helped us to specify our needs, working with us to ensure that the investments in IT, telephony, broadband and security met the needs of our small but fast-growing business - fit for the 20th Century within an 18th Century environment.  Staff are friendly and professional and work with us rather than for us – we feel like we have strategic as well as a contractor/supplier relationship which is critical for our business.  ESP has always gone the extra mile for us when required and have looked for solutions to our problems both pre, during and post-implementation.  The service desk, as well as back-office staff, are both knowledgeable and helpful.  We are fortunate to have many trusted suppliers and ESP is one of them.'
Wentworth Woodhouse
What are ESP talking about?
Latest News
How to Organise Your Cybersecurity Strategy into Left and Right of Boom

In the pulsating digital landscape, every click and keystroke echoes through cyberspace. The battle for data security rages on. Businesses stand as both guardians and targets. Unseen adversaries covet their digital assets.

To navigate this treacherous terrain takes a two-pronged approach. Businesses must arm themselves with a sophisticated arsenal of cybersecurity strategies. On one side, the vigilant guards of prevention (Left of Boom). On the other, the resilient bulwarks of recovery (Right of Boom).

12 months in the life of Missy aka #ESPDuck

Missy aka #ESPDuck latest update…

OK, since we introduced you to Missy our #ESPDuck back in December last year, she has been extremely busy!! She has been doing us (ESP Projects) proud and has represented us well over the last 12 months. For those of you who have just joined Missy's journey the link here explains what and who Missy is. What is the #ESPDuck all about? (espprojects.co.uk) both Missy and the staff at ESP Projects in Sheffield have been working very hard.

9 Smart Ways for Small Businesses to Incorporate Generative AI

There is no escaping the relentless march of AI. Software companies are rapidly incorporating it into many business tools. This includes tools like Microsoft 365, Salesforce, and others.

Many people are still concerned about where AI will go. But there is no denying that it makes certain work more efficient. It can generate custom images on demand. Or write a company device policy draft in seconds.