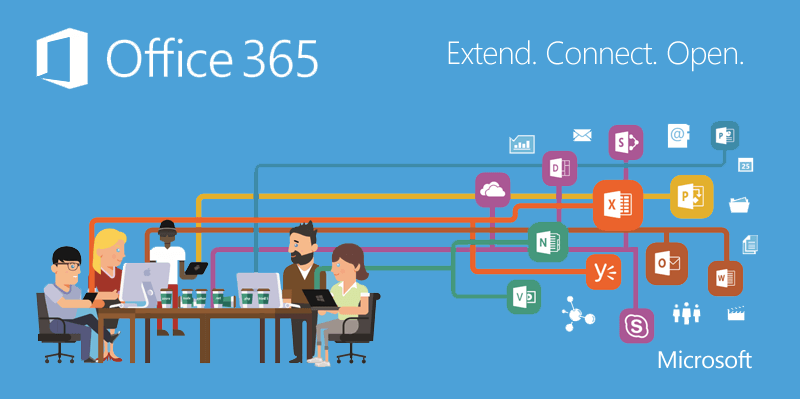 What is Office 365? 
It essentially began as an online version of the collaborative Microsoft Exchange solution, which enables organisations to share email, calendar appointments and contacts with other staff members. There are now lots of other useful services thrown into Office 365 including Instant Messaging, voice & video calling and a website creation tool. Specifically, you get:
Online Exchange environment for shared mailboxes, calendars, contacts etc.
Outlook Web Access (OWA) to any mailbox/calendar
Integration with separately-purchased MS Outlook 2016/2013 to use the full Exchange capabilities (you can also purchase this software as part of your subscription now)
Web-App versions of Microsoft Word, Microsoft Excel, Microsoft OneNote, and Microsoft PowerPoint. These are not the 'full versions' which require separate (or subscription) purchase
Online document storage either personal stores or shared to other users via SharePoint (limitations apply)
Connect with friends or peers from virtually anywhere through rich presence, instant messaging (IM), PC-to-PC audio/video calls, and online meetings.
Tools for collaborating with Staff, such as Microsoft Teams, Staffhub and Yammer
Tools for sending out surveys to customers and other service users
How Much Is Office365 Business Essentials Plan?
The 'Business Essential Plan (Exchange Only) subscription is paid directly to Microsoft by the client at a cost of either £3.80 + VAT per mailbox on an annual commitment OR £4.50+VAT per mailbox per month on a monthly commitment. You can have up to 50,000+ users on the system and you even get a cash-backed SLA from Microsoft with a 99.99% uptime guarantee.  Other packages are available for small businesses and enterprises too.  More details can be found here https://products.office.com/en-gb/compare-all-microsoft-office-products?tab=2
Who Should Use Office 365?
In our view, the service is ideal for most customers, in particular, new organisations with no existing IT systems; organisations with no server but a need to share email/calendar system; organisations working across multiple office-bases and also those with a lot of remote/outreach workers. It is strongly advised to speak to ESP Projects about an implementation and administration plan before ordering.
Anything Else I Need to Know?
Yes! Let's take look at two of the stumbling blocks to adoption.
If you plan to use it to replace an existing email system, *all* of your users would have to adopt Office 365 together. Therefore the migration process is in depth and requires both extensive work behind the scenes as well as onsite migrating email data to the new platform.
Whilst Office 365 integrates very well with Outlook 2016 & 2013, it doesn't work so well with 2010, 2007 or 2003. In these cases, there might be quite significant transition costs to account for, as well as the subscription fees.
Read more about ESP Projects cloud solutions or talk to us about your IT needs in more detail and we can help determine the costs for you, as well as provide IT Support and training throughout the installation & settling in process.