Why Invest in an SSL Certificate
Over the past year, many organisations have been pushing harder than ever before towards a secure web with the use of an SSL Certificate. Google announced their plans of 'Moving towards a more secure web' back in September 2016. Starting with the release of Chrome 56 that was rolled out late last week, users will start to see a "Not secure" message in their address bar when visiting a login or payment page which doesn't use the secure HTTPS protocol.
Free SSL Certificates
Companies such as Let's Encrypt have been working hard since 2014 to bring a free SSL solution that would allow anyone with a domain and website to run it securely without any additional costs. cPanel have also been working alongside Comodo to offer free automated SSL for the web.
SSL Certificates in Browsers 
In the past browsers have always highlighted sites over a HTTP connection with a neutral indicator but due to recent changes over the last few years, SSL certificates have become more affordable and easier to use than ever before.
Google Chrome and Mozilla Firefox have both started on their path to 'deprecate' the use of HTTP on the web. Many browsers have slowly been pushing website owners and developers towards using HTTPS. Many developer functions offered by browsers have also been blocked when using HTTP, to protect users sharing data to 3rd parties, for quite a while.
When Let's Encrypt launched their public beta in 2015 39.5% of page loads on the web used HTTPS. At this time (January 2017) we're on the breaking point of half of the web using HTTPS. This alone is something many have only dreamed about, and thanks to Google and Firefox we can expect this number to rapidly increase over the coming months.
Google have also indicated plans to make the 'Not secure' warning more obvious over time, with the eventual plan being to show a red warning on all pages served over HTTP.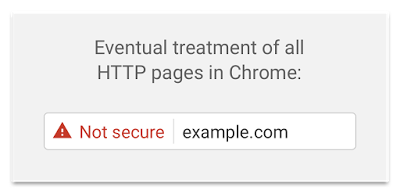 ESP Projects Web Security
ESP Projects fully embrace the push of HTTPS to create a more secure web for everyone, keeping data hidden from prying eyes is a high priority. We've taken steps to enable the SSL service at no extra cost on all our web hosting packages. Existing sites may require some work to take full advantage of this change, please get in touch for more information.