Why ESP chose the 3CX VoIP Solution
Why ESP Is Using 3CX As Its VoIP Solution
ESP has decided to upgrade from Kerio to the more widely used 3CX platform for its primary VoIP solution for its clients. Here's why…
Kerio, ESP's previous VoIP solution, was recently been acquired by GFI which has raised questions over the future of the platform, particularly around the levels of security and how 'future-proof' it will be in the long run. Although GFI are continuing subscriptions for Kerio, it is likely that they will eventually wind it down completely. This means that it may become redundant at some point, and that the support for the system going forward will diminish. This was the initial impetus for ESP to make a platform shift.
ESP carried out thorough research on alternative VoIP systems. Our areas of focus were the breadth of its use, its range of features, its flexibility, its cost and, perhaps most importantly, its security. 3CX, it was decided, was the most appropriate system all round. This is why we believe it to be the best platform for our clients.
Widely Used and Highly Regarded
3CX is the most popular VoIP platform on the market. It is used globally, across all sectors, and has an excellent reputation for being highly functional, reliable and well supported. This system, being so widely used, is not likely to reach end of life any time soon.
Feature Rich
3CX is, in many ways, an upgrade to Kerio. The system boasts a host of cloud based features including conference calling and the ability to access the system from any enabled device remotely (ideal, given the boom in remote working due to Covid-19 safety measures).
Flexibility
The 3CX app will can utilise both 4G and Wi-Fi to connect to the cloud based phone network. This allows the user to make and receive calls remotely. The platform also contains all of the VoIP call features that we are now so familiar with: BLF (busy lamp field) indicators, call forwarding and extension dialling, for example.
Affordable and Easy to Install
The 3CX platform, compared to other VoIP systems is extremely affordable. This is, in part, down to its widespread use and flexible installation possibilities. You can install your PBX wherever you like and freely choose which SIP trunks or IP phones to use. This fact also saves you a great deal of money on your yearly phone bills.
Security
This platform boasts a high level of security, which is backed up by dedicated remote support teams.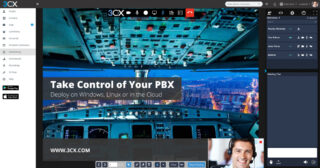 Overall, what we are proposing is a slick, feature-rich phone system that will offer flexibility for any organisation, however, complex their requirements. We advise you to break those old copper line shackles that cost an arm and a leg- and invest in something that will benefit your organisation both functionally and financially.
The 3CX platform offers secure remote access, extension management, ease of adding/removing handsets, detailed reporting and even options for integration with other systems, such as door access or CCTV systems (both of which ESP can also provide!).
ESP integrated 3CX into its network with minimal hassle. We are currently reaching out to all our existing clients to discuss the switch and explain the benefits this feature rich system will bring. However, in the meantime, if 3CX is something you feel you would be interested in, or if you have any further questions regarding our new VoIP system, don't hesitate to contact our consultants to discuss the best options for your organisation.
Email: sales@espprojects.co.uk
Phone: 0330 2020 118