Office 365, Moving Beyond Email, Part 1 File Storage and Sharing
Here at ESP we have been supporting our clients migrating to Office 365 for their email service for a number of years.
Many of our clients, such as charities, actually get access to this platform for free*, and as such, Office 365 pretty much is a no-brainer decision over many competing platforms or the cost and complexity of running on premise exchange servers.
But Office 365 offers far more than just an industry leading email platform. In this series of articles, we seek to investigate other offerings on the platform and how they can benefit you and your organisation, starting with perhaps what is the second biggest business use behind emails –
File Storage and Sharing.
Office 365 excels at providing storage and sharing for files, especially if you have a smaller organisation. The combination of OneDrive and SharePoint can pull together to allow storage of individuals documents (One drive) and documents with shared ownership (SharePoint). In addition to storage of files, SharePoint also offers some brilliant collaboration tools, but more on that in a future post.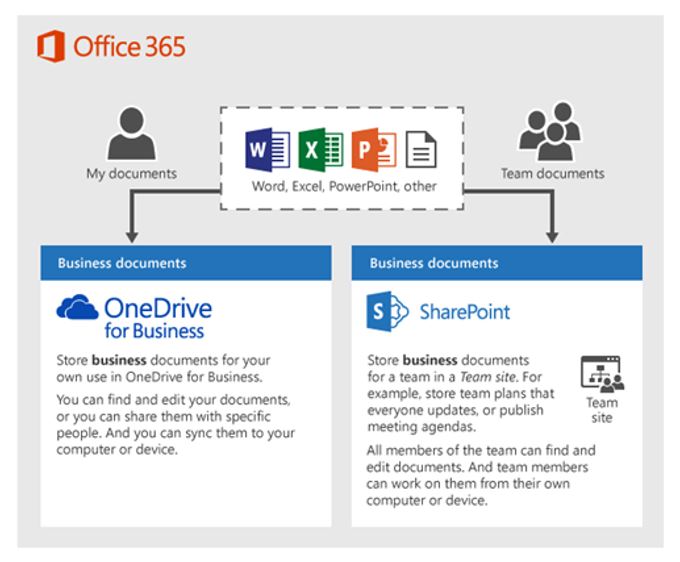 **
Both SharePoint and OneDrive can allow you to access your files wherever you are, and whenever you want, as long as you have in internet connection available. Not only that, but you can also access them from a variety of devices, PC, Laptop, Tablet, Phone, or anything that can run a web browser, you can even edit documents, such as word or excel straight in the browser without need to download or even have office installed on the device you are using.
Microsoft give a few recommendations for what sort of files to save on which platform, this table below details this.
Storage location
What it's for
What to store here
OneDrive
Storing content in OneDrive is like storing files on your computer; no one else can easily access them.

For more info, see What is OneDrive for Business?

Business files that other team members won't need to collaborate on or access regularly.
SharePoint team sites
Collaboration. When you create an Office 365 group (for example, in the Office 365 admin center, in Outlook, or by creating a team in Microsoft Teams) a SharePoint team site is created for that group. Likewise, when you create a new SharePoint team site from the SharePoint home page or from the new SharePoint admin center preview, it also creates an Office 365 group. For more info see What is a SharePoint team site? and Create a team site in SharePoint Online.
Files that have shared ownership. We recommend separate team sites for each unit of work in your organization. For example, to keep personnel and financial documents private to a small team, create a separate team site.
That's Brilliant… You're really excited about that… um, how do you use it? Well like most of Microsoft Office 365 offering, most of the features can be accessed straight in the portal at Office.com and logging in with your email address and password. Once logged in you can access both your personal OneDrive files, and your organisations SharePoint site. While on the portal you can see, upload, download and even edit documents in the web browser. You can also create links to share these documents to people inside, and if not limited by administrator, outside your organisation. We will expand on all these points in the next installment of this series… stay tuned ?
*If you are a charity, please feel free to contact us about how to get setup on Office 365 under a FREE Charity account, and the process of migrating your emails to the platform.
** images taken from Microsoft documentation
Need IT Support?
Remember, if you have any questions about Microsoft Office 365 or OneDrive, we can help! Get in touch today and we'll do our best to solve your IT problems or answer any questions you may have.