Notification of the end of BT copper broadband services – Copper networks switch off in 2025 
BT Openreach is intending to close off many copper connections by 2025.  The idea is to bring consumers and businesses forward, into the SuperFast, UltraFast and HyperFast broadband spaces by forcing them onto Fibre based products.  The connection types listed below provide lots of information about the different connection types that you might have currently, or might consider, for your broadband needs in Sheffield and further afield.
You will need to start investigating the right products for your organisation, sooner rather than later.  New connections can take weeks or months to implement, so it's important that you are ahead of the game.
Openreach are already rolling out a plan whereby once an exchange has reached a position where 75% of the homes and business connected to it are able to get a Fibre based product, you will no longer be able to purchase the copper products.  This means that they are really trying to squeeze businesses into deciding sooner rather than later.
Find out more about the different products that are being retired and their replacements below.
Alternatively, feel free to get in touch on our Sales Hotline – 0330 2020 101 to discuss what type of package we might be able to offer you.  We're always willing to price-match if you have an existing deal! 
Broadband Connection Types
ADSL – Copper based
ADSL stands for: Asymmetric Digital Subscriber Line
ADSL broadband is a connection provided over traditional copper telephone lines. Openreach owns the UK's landline infrastructure, so when you have an ADSL connection, you need to rent your phone line from Openreach. If you already have an existing phone line, the broadband is added onto the package.
Openreach was previously owned by BT, but ADSL packages can be sold by providers other than BT through a process known as local loop unbundling (LLU). This means that a secondary provider, for example Plusnet or TalkTalk, put their own software in the telephone exchanges and rent line and exchange space from Openreach.
Although not as fast as fibre broadband, ADSL provides a high-quality, reliable connection. But if you live far away from your telephone exchange, or if the cable has degraded, then speeds can drop dramatically.
How does ADSL broadband work?
ADSL is the name given to a broadband connection which works through the copper wires of your existing phone line. Because it comes through the Openreach phone line network — which most homes are already connected to — it's the most popular type of broadband available, simply because it's so easy to sign up to and requires minimal installation in most cases.
When ADSL broadband is installed, a microfilter is plugged into your phone connection. This separates the frequency of your phone line from that of your broadband connection. It's this device that allows you to surf the web while chatting on the phone.
Almost all the major UK broadband providers offer ADSL broadband. While some of them also provide cable broadband or fibre broadband, ADSL broadband is by far the most commonly available. Nearly every premises in the UK can now get ADSL broadband, so whether situated in Scotland, Wales, Northern Ireland or England, ADSL broadband is likely to be available.
Drawbacks to ADSL
Aside from being a contended line and having slower speeds, as ADSL requires a phone line, it means that line rental is required every month.
Fibre broadband, which uses fibre-optic cables to provide speeds as high as 900Mbps, depending upon your location.
Business Fibre – Fibre based
Fibre broadband is currently being deployed in the UK by BT and Virgin Media, with other providers slowly implementing further networks, in particular CityFibre have a large network in Sheffield. This uses fibre optic cables to provide a broadband connection that is generally much faster than traditional ADSL. It is often referred to as 'super-fast broadband' or 'next-generation broadband' as it offers faster speeds than were traditionally available using older generation networks.
There are generally two types of fibre broadband connections:
Fibre to the cabinet (FTTC) (VDSL)
Fibre-to-the-Cabinet (FTTC) involves running fibre optic cables over a longer distance, from the telephone exchange or distribution point to the street cabinets which then connect to a standard phone line to provide broadband.
This is combined with a copper cable from the cabinet to the home or business which uses VDSL or similar technology that can deliver much faster speeds over shorter distances.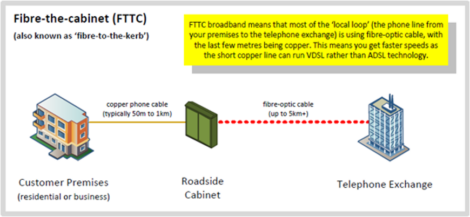 Fibre to the home / premises (FTTH or FTTP)
Fibre-to-the-Premises (FTTP) provides and end-to-end fibre optic connection the full distance from the exchange to the building and can deliver faster speeds than FTTC as there is no copper leg at all.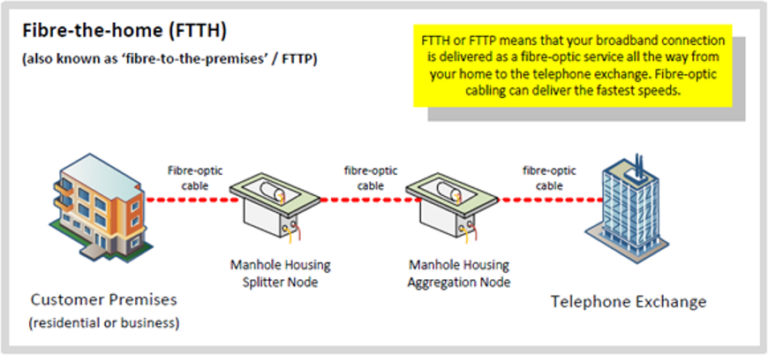 While the image showns the fibre going underground which is the most common method, fibre can be run between telephone poles and the splitter node can be mounted onto a pole too.
Fibre Broadband Speeds

The speed of your connection will vary depending on the distance to the fibre cabinet that serves the premises.
Fibre to the Cabinet (FTTC) broadband comes in three main variants which offer a downstream line connection speed of 80 meg (80 Mbps), 55 meg (55 Mbps) or 40 meg (40 Mbps), but the actual maximum throughput speed of the service will be slightly lower than this at around 76 / 52 / 38 Mbps. Different upstream speeds are available at either 2Mbps or 10Mbps on the 40 Mbps variant, with 10 Mbps on the 55 Mbps version and finally 20 Mbps up on the 80 Mbps.
Not everyone will receive the maximum speed as it depends on the length of your phone line to the cabinet which is providing your broadband service, it should be noted that since all the FTTC services rely on the same 'VDSL2' technology, unless you are getting the maximum speed from a 40 Mbps product upgrading to a 55 or 80 Mbps product will not boost your speeds.
Technologies such as FTTP and DOCSIS (cable broadband) are fixed speed connection technologies so you will get the connection speed you pay for, of course the speeds you see from speed tests may not always reach the maximum speed that the connection speed allows.
SOGEA – Single Order Fibre Internet Products
Openreach have announced the withdrawal of WLR (Wholesale Line Rental), which means the traditional delivery of voice and other services across the PSTN (Public Switched Telephone Network) will come to an end. A stop sell of these services will take effect from 2023 and complete withdrawal by December 2025. The withdrawal of the PSTN significantly changes how broadband is delivered, i.e., the broadband service will no longer require a WLR service, but rather the broadband service becomes the underlying technology to deliver data and over the top IP services such as Voice over IP (VoIP), enabling the transition to a true digital IP solution.
These new data only, broadband products will replace the traditional broadband (based on PSTN service) and are referred to as Single Order Broadband which consist of :
> FTTP
> SOGFAST
> SOGEA
> SOTAP
Single Order GEA (SOGEA) and SOGFAST are new broadband packages which uses the same technology as GEA FTTC (Fibre-to-the-Cabinet VDSL or GFAST (for Ultrafast speeds)) with the exception that it does not share the line with a WLR service (the PSTN network isn't enabled for the line). SOGEA and SOGFAST offers the same data rates, performance, and VDSL technology as FTTC and GFAST, is available in the same geographic areas as FTTC/GFAST, and with the additional benefit of being a true all IP solution broadband service to meet the demands and reliance for todays and future connectivity solutions
New Single Order Broadband Solutions
Below is a diagram showing the broadband products to be withdrawn and their like-for-like transition to the new Single Order Broadband variants: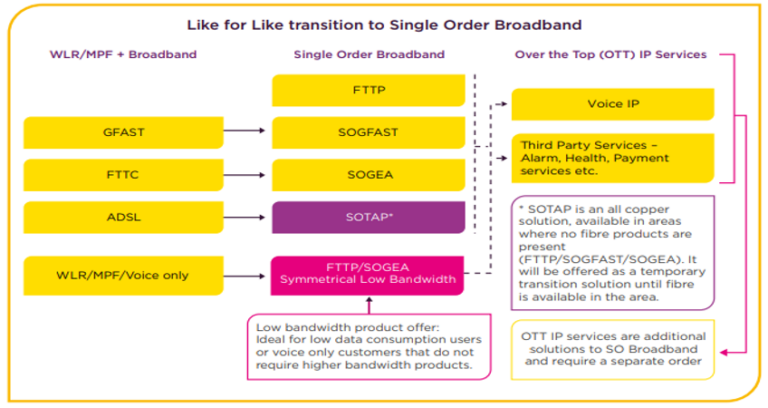 Why SOGEA?
The advancement of fibre technology allows better stability and increased bandwidth. With over 28 million (FTTC enabled) premises and growing, users are now benefitting from greater asymmetrical speeds over the existing fixed yet shared broadband infrastructure. The availability and growth of smart technologies such as smart energy monitoring/thermostat devices, IP surveillance systems and smart lighting (to name a few) all rely on data delivered over a reliable broadband service. Businesses can benefit too, working smartly by adopting solutions such as cloud-based applications enable businesses to improve productivity and efficiency. It can also deliver high quality voice via VoIP services. All these IP based solutions services require a connectivity solution which offers speed and stability for real-time data and Quality of Service (QoS) features. SOGEA also delivers streamlined single order and fault journeys when compared with WLR plus Broadband services, greatly simplifying the experience of delivering and supporting the products for your customers, as well as future proofing them ahead of the PSTN withdrawal.
SOGEA Infrastructure
As mentioned earlier SOGEA uses the same technology as current FTTC product. Fibre technology is used from the local Exchange to the PCP (green street cabinet) and then copper from the PCP to the EU premises. This provides faster speeds (up to 76 Mbps) and greater stability over ADSL or copper only solutions.

SOGEA Packages

WLR line is not required for SOGEA/SOGFAST broadband orders
All SOGEA packages come with 'Unmetered' usage policy allowing customers to use as much data as they need to (within the parameters of the acceptable usage policy) all wrapped into the monthly rental charge
Detailed Access Line Infrastructure

Services are connected, via GEA cable links, to the Layer 2 switch at the Point of Handover (PoH) within the local exchange.
From there, multiple fibre optic cables (in blue) feed out to the local DSLAMs (Digital Subscriber Line Access Multiplexer) positioned near by the local street cabinets (PCPs – Primary Cross-connection Points).
The black "D-side" (Distribution-side) copper cable runs from the PCP to the end customer's premises and finishes up at the master socket, also known as Network Termination Equipment version 5 (NTE5).
Here, a NTE5 socket terminates on the end user premises. There may already be a Service Specific Front Plate (SSFP) onsite however the phone port is not to be used or connected with an analogue/ dect phone as this may interfere with the data signal.
Finally, your router/modem is connected to the SSFP to deliver the SOGEA broadband service. If you have a VoIP solution you may connect your phone to the router provided it has an ATA port.
Important
* Ordering SOGEA will cease any existing WLR service. Furthermore, the WLR service cannot be reinstated.
* SOGEA cannot currently be used to provide faster speeds and services over exchange only lines where the D-side copper runs directly from the local exchange to the end customer's premises
Important Considerations:
SOGEA along with other Single Order products are still undergoing industry learning in relation to WLR withdrawal. At present there may be circumstances whereby PSTN compatible solutions/hardware (Alarm systems, Payment devices and Critical Services) are incompatible with SOGEA, meaning they are not IP enabled. Hence these devices or services will stop working.
Careful considerations should be taken when ordering/replacing existing broadband + WLR/ MPF services with SOGEA. By not taking precautions, you could put the end customer's health/ business at risk. In the event of a SOGEA order completing for such customers, Openreach may not revert to a broadband + WLR/MPF voice service along with the loss of the telephone number.
With this in-mind a recommendation to create point-of-sale materials which will help your sales/operational teams to identify customers who are reliant on devices/solutions which operate on working PSTN (WLR/MPF) service. Emphasis on identifying the end user solutions which are reliant on PSTN services such as:
> Red Care services or vulnerable customers who are using pendant solutions
> Businesses/services that rely on phone systems based on PSTN technology such as a medical practice (whereby a VoIP solution cannot be offered)
> PSTN based payment machines, fax machines, Security systems and Elevator/Lift services and critical services with built in emergency calls
EoFTTC (Ethernet over FTTC) – Copper based
Ethernet over Fibre to the Cabinet (EoFTTC) is provided by copper from your business premises over the short distance to the green cabinets in the street. Unlike standard broadband where the copper then continues all the way to the exchange, Ethernet over Fibre to the Cabinet traffic travels across a shared fibre optic circuit to the exchange. The extra distance doesn't lead to ongoing degradation of performance, which allows access to up to 20Mbps symmetrical speed with the additional boost downstream making a total of 76Mbps downstream bandwidth.
This provides an Ethernet service, without the cost, whilst offering great UK wide coverage that's more often available in residential areas. Ethernet over Fibre is ideal for both Cloud-ready Internet Access and Private Networks. It's often chosen for its speedy transfers of large data files as well as running simultaneous applications like SIP, video conferencing and real-time business applications.
One problem with fibre broadband (and ADSL broadband – the one that's not "superfast") is that you'll effectively share your internet connection with all the other businesses nearby who use the same cabinet (the green Openreach box that sits on streets in fibre-enabled areas). That means at certain times of the day (peak times) you'll notice drops in bandwidth.
This isn't the case with EoFTTC – the bandwidth is dedicated to your particular connection, meaning you're not affected by peak times or any other businesses close by. On top of this, EoFTTC can be supplied as a fully-symmetrical connection, so you get the same upload and download speeds.
In a business setting uploading is a much more common occurrence, and as such a higher upload speed can make a huge difference to many business applications. Without going in to too much detail, better upload speeds (which are guaranteed with EoFTTC) will make significant improvements to the following:
Cloud backup – faster backup of your data to an internet-based service.
Sending large email files.
VoIP and HUC – take advantage of cheaper calling with high-quality internet telephony.
Improved collaboration – video and web conferencing is much more streamlined.
Any other business cloud-based/hosted solutions.
EoFTTC pricing
Because it's a dedicated and reliable connection that's backed up by Service Level Agreements, EoFTTC does cost more than FTTC – but it's much more cost effective, especially for businesses who rely on internet connectivity. Due to its reliability, the other main benefit of EoFTTC is that it offers SLAs and levels of support usually attributed to fully leased ethernet lines.
EFM (Ethernet First Mile) – Copper based
EFM refers to a type of circuit that uses multiple copper pairs to provide affordable but reliable, high speed connections for business sites. Most people are familiar with ADSL broadband, which offers an IP connection over a single phone line.  An EFM circuit uses between 2 and 8 lines, which helps it deliver several major improvements over ADSL. Lines are referred to as Copper Pairs; they're the same wires that are used for phone lines, but in EFM they're not used for calls.
Traditionally, businesses had the choice between a standard ADSL service and fibre-based Ethernet services. However, for some business sites, ADSL is not fast or reliable enough for their needs, whereas fibre-based Ethernet services are too expensive for them.
EFM sits right in-between ADSL and fibre Ethernet.  It is relatively cost-effective, but offers good reliability and performance and a speedy installation.
EFM improvements over ADSL:
The use of up to 8 copper pairs allows EFM to offer speeds of up to 35Mbit/s.
EFM offers symmetric bandwidth – the same speed in both directions; upstream to the internet or WAN and downstream to the site. This contrasts with ADSL which is geared up for browsing, with most of the bandwidth allocated to the downstream.
EFM offers uncontended bandwidth. Since EFM is uncontended, you're always guaranteed all of your bandwidth.
EFM offers circuit resilience. If one of the Copper Pairs fails or degrades then the circuit can continue without it. This makes EFM significantly more reliable than ADSL.
EFM is a great half-way house between low-cost DSL or Superfast and expensive Fibre Ethernet circuits.
For performance and reliability, fibre is always preferable to copper.
Fibre Ethernet circuits support higher bandwidth and are more reliable than copper circuits, but this comes with a higher cost and longer lead time to install them.
Copper circuits are affected by electrical interference that causes intermittent or persistent errors and performance issues.
The signal processing and re-transmission to overcome these errors also increases latency (the delay in sending and receiving data). This in turn reduces the performance of the circuit and slows down the applications and damages user experience.
UPDATE 1st March 2023 : After an enquiry about this article made by Andy G. of www.theanswercentre.co.uk (his question was "Will EFM be affected by this BT switch off?") we would like to update the article to state that, after checking with our upstream partners, EFM products reached "end-of-sale" across the BT Infrastructure back in March 2021 and will be "end-of-life" from November 2023.  Thanks to Andy for submitting the question!
Leased Lines (MIA) – Fibre based
Both business broadband and business leased lines provide Internet access at a fixed subscription cost. The differences are:
A leased line is a dedicated connection between your premises and the local exchange. It is fixed bandwidth and offers identical upload and download speeds and is not subject to contention with other users.
Broadband is not a dedicated connection between your premises and the local exchange. It is variable bandwidth, asymmetric, meaning faster for downloads than for uploads, and subject to contention with other users.
MIA
Managed Internet Access connections are exclusive to your organisation and provide the same speed in both directions. Similar to leased lines, which provide a connection between two premises, MIA Connections are delivered over Ethernet. MIA is a dedicated connection between your premises and the internet, providing the ideal basis for high grade internet connectivity.
Speeds available range from 20Mbps (often referred to as MIA Lite) to a huge high 1Gbps capacity. They offer the freedom and flexibility to grow and future-proof your systems.
Business Continuity
In the ever-evolving world of internet usage, businesses are now thinking more of what impact the internet has on their daily operations and more importantly, what impact this has to their business if the internet suddenly and un expectingly goes offline. Can your business operate on just the single internet connection? How much money would you lose while you are offline for a full working day?
With businesses across the UK now more than ever looking to bolt and brace the solutions they have in place to ensure that they are constantly online there are options to consider:
Hot Swap: this would provide you with a Primary Leased line service from supplier A and a Secondary Service from Supplier B, Leased Line or FTTC/SoGEA if available. The solution is based on using two ISP managed routing endpoints, one for each service which are connected via an ethernet cable and have the same IP range. If the Primary Service goes hard down the service auto rolls over to the secondary connection until the Primary is fixed and back online and then the service would auto roll back over from Secondary to the Primary.
BT RAO2: This solution is based on providing two identical Leased lines to a single site. The Leased lines would be supplied via different BT Exchanges and would route via underground ducting and delivery to site would be provided via two separate entry points to the building. This ensures that the two active services are routed independently to a single site and has the least points of failure, separate exchanges, separate underground ducting.
Diverse Carrier: Similar to BT RAO2. This is provided with the same principle, but it uses two separate network suppliers i.e. Virgin Media & Talk Talk Business. having two independent Internet connections that route between the same two locations without sharing any common routing points.
Summary and Advice
ESP have been providing Business Leased lines in Sheffield and beyond for a number of years.  For any business that can afford it, a Leased Line is still definitely the way to go.  It offers the best speed, best reliability and the best technical support in case anything does go wrong.  Service Level Agreements (SLAs) are also much better, forcing the provider to make sure that you get exactly the service you purchased and forcing them to fix things really quickly in the event of a fault.  If your business is unable to afford the high-cost of a Business Leased Line, some of the technologies above will be available within your budget.
Why not talk to us about your Business Connectivity needs by calling us on our Hotline – 03302020101 or using our Contact Us page?
You can also find out more about IT Support Sheffield by visiting the link.
More informative articles are available in our Tech News section too.